CREJ – Retail Properties Quarterly – May 2018
Big-box closures lead to small-box opportunities
---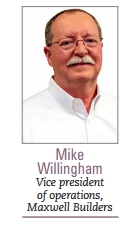 With construction banners, cranes and "[insert your favorite store name] coming soon" signs dispersed all along the Front Range, it's hard to believe Amazon is taking over the retail world. In fact, retail construction in Colorado is strong.
Colorado is one of the strongest construction markets in the United States, with construction starts growing by 20 percent over the last two years, according to the Dodge Data & Analytics' Construction Outlook 2018 Report. Colorado grew from $18 billion in construction starts in 2016 to $21.6 billion in construction starts in 2017.
It seems each week we hear of another big-box bankruptcy or downsizing. Those subsequent closings are creating opportunities for small-box retailers, microretailers and redevelopers.
The redevelopment practice of redivide, repurpose and remodel is creating numerous opportunities by making prime real estate property affordable for smaller retailers. Many small-box retailers, including off-price brands like TJMaxx, Ross and Nordstrom Rack, are moving into large spaces formerly occupied by Kmart, Sears and Sports Authority. The imminent closing of Toys "R" Us represents a plethora of opportunity for enterprising redevelopers who are skilled at adaptive reuse of existing market spaces.
Through redevelopment, a 90,000-square-foot former Kmart store becomes three small-box store spaces of 30,000 sf each. Or, it could become a 40,000-sf space for one retailer and two 25,000-sf spaces for two other retailers.
Also, the marketplace for small micro-retail stores of 2,500 to 5,000 sf of space is a growing trend. Industrial properties are redeveloped into community gathering spaces that hold retail, restaurant and entertainment microretailers, housed under one large industrial roof. Stapleton's Stanley Marketplace concept and The Source in River North are prime examples. The marketplace trend continues to grow and will move into Colorado's suburban areas as part of that expansion.
Another growing consumer practice that is presenting new retail construction opportunities revolves around the fact that people are hanging on to costly possessions longer than in previous years. For example, owners drive their vehicles longer, rather than trading them in and purchasing new; thus, creating a need for specific automaintenance retail stores. Vehicles are manufactured with higher quality materials, improved technology and higher sticker prices, so owners are willing to put that extra level of care in to keep their vehicles on the road longer. Kelley Blue Book recently cited the average price of a standard vehicle as $34,342. The average age of vehicles in the U.S. is at a record high of 11.6 years, and the average length of vehicle ownership is another record high of nearly seven years, according to an IHS Markit study. That's a lot of older vehicles driven by residents and visitors along Colorado's Front Range.
We are directly benefiting from this new demand. We are constructing a Caliber Collision center in Loveland and a Les Schwab Tire Center at the Promenade at Castle Rock. Vehicle maintenance retail facilities are growing exponentially and many are moving onto land once occupied by big-box retailers.
However, at some point, it becomes more cost effective to build new rather than adapt outdated buildings. Some big-box buildings and shopping centers are too outdated to save and it's more cost effective to purchase the property, wipe it clean and develop a new retail community. Developers and contractors are hard at work reimagining, redeveloping and revitalizing retail offerings all along Colorado's Front Range.
Colorado is expected to experience overall construction growth with particularly strong growth in the commercial retail market segment, according to the Dodge Data & Analytics' Construction Outlook 2018 Report. Population growth precedes commercial retail growth, and Castle Rock is a prime example.
We have numerous projects completed or under construction at the Promenade at Castle Rock. Castle Rock's population is projected to grow by approximately 25 percent by 2030. Median income in that city is growing as well. The 166-acre Promenade at Castle Rock is a new development shopping, dining and entertainment complex on the north side of town and, while still developing, is already one of the top 12 retail employers in Castle Rock.
Similar developments are being constructed in Northern Colorado, whose population is expected to grow by 500,000 by 2040, according to the State Demography Office.
I look forward to seeing continued commercial retail construction growth along the Front Range. This development activity represents growth in our economy, career opportunities for Coloradoans and community gathering spots for residents to unplug from technology, buy local and meet their neighbors.
Originial article can be found at http://www.signatureflip.com/sf01/article.aspx/?i=10522